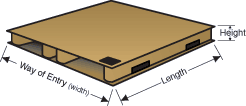 The Pallet's Dimensions are illustrated here to the right.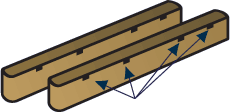 Banding slots are 1" x ¾" holes cut into the runners to allow the paletized product to be secured to the pallet using standard banding.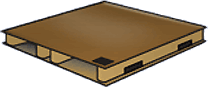 A multitude of coatings can be applied to your pallet including but not limited to:
• Anti-Skid
• Paraffin Wax
• Color Coating
• Greaseproof Resistant Coatings
• Volatile Corrosive Inhibitors (VCIs)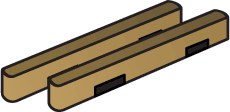 There are two types of entry for the pallet. The 2-Way entry allows for normal access while the 4-Way pallet allows access through the runners.

Floor Jack Holes are 9" Square holes cut into the bottom deck to allow the use of a floor jack or hand jack.
A Load Stabilizer is simply a sheet of Singlewall glued to the top deck. This helps to stabilize the product.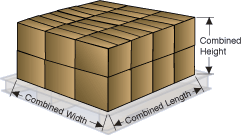 The Combined Dimensions are the dimensions of the products added together as they would be stacked on the pallet.
A racking system is a space saving set of stationary racks. Pallets can be stacked above eachother without affecting the product below.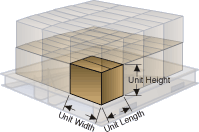 The Unit Dimensions are the dimensions of a single product that is place on the pallet, whether it is a drum or a box of parts.