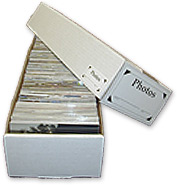 Photo / Hobby Storage Boxes
"Available for local pickup only!"
These Half Slotted Cartons are available in two sizes, 16 x 5-3/8 x 3" and 16 x 6-3/4 x 4", and make perfect storage boxes for 4 x 6 photographs or 3 x 5 index cards. They also work well for other hobbies that require storage of small to medium parts.
Please note that we cannot ship these items.
They must be picked up by the customer!